Miami Spine Institute
Disorders & Procedures
Our physicians keep current on the newest advances in spinal care including:
Disorders We Treat
Adult and Pediatric Deformity
Degenerative and Idiopathic Scoliosis
Adult Degenerative Disorders
Low Back Pain
Neck Pain
Spinal Stenosis
Herniated Disks
Spine Compression Fractures
Degenerative Spine Disease
Congenital Spine Disorders
Metastatic Tumors
Spondylolisthesis
Procedures We Perform
Microlumbar Discectomy Through the Microscope
Lumbar Fusion
MIS Lumbar Fusion – ALIF, TLIF, XLIF, Axia-lif
Percutaneous Pedicle Screws
Anterior Cervical Discectomy and Fusion (ACDF)
Motion Preserving Laminoplasty
Microforaminotomy
Posterior Cervical Laminectomy and Fusion
Kyphoplasty
Vertebroplasty
Cervical Total Disc Replacement
Lumbar Total Disc Replacement
Spine Trauma and Fractures
Scoliosis Correction
Minimally Invasive Pain Management Procedures Including:

Lumbar and Cervical Facet Injections
Radiofrequency Ablation
Epidural Injections
Sympathetic Blocks
Spinal Cord Stimulators

View Multimedia
Patient Education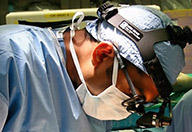 Our Approach
At The MSI, we believe in using the least invasive treatment option possible. Noninvasive treatments include pain management, rehabilitation, and physical and occupational therapy. When surgical intervention is needed, the Spine Institute uses the latest in technology and innovation to perform the least invasive surgery possible with the most effective and safe results. Minimally invasive microsurgical techniques are used on an inpatient or outpatient basis for certain interventions, including discectomies, while major surgical capabilities are available for more complicated problems.